[Under the law of Hong Kong, intoxicating liquor must not be sold or supplied to a minor in the course of business.]
[根據香港法律,不得在業務過程中,向未成年人售賣或供應令人醺醉的酒類。]
Introducing our collection of Cheese & Wine Gift Hampers featuring a variety of cheese from Les Frères Marchand and premium wines.
Please email hampers@classifiedfood.com to place an order.
Terms and Conditions
Deliveries are available on weekdays (Monday – Friday, 9am – 6pm) only.
A delivery charge of HK$200 per Hong Kong Island address and HK$250 per Kowloon or New Territories address will be added to the total cost of each hamper. Delivery service is not available for Lantau Island and other outlying islands (including Discovery Bay).
Pre-order 3 days in advance. Please note that some items may be unavailable and replacements will be advised.
No refund will be offered in the order of cancellation.
Online orders and wine selections will be acknowledged by return e-mail.
Classified reserves the right of final decision in case of any dispute arising from the order.
*Photos are for reference only.
**Cheese should be immediately refrigerated between 5-8°C once received.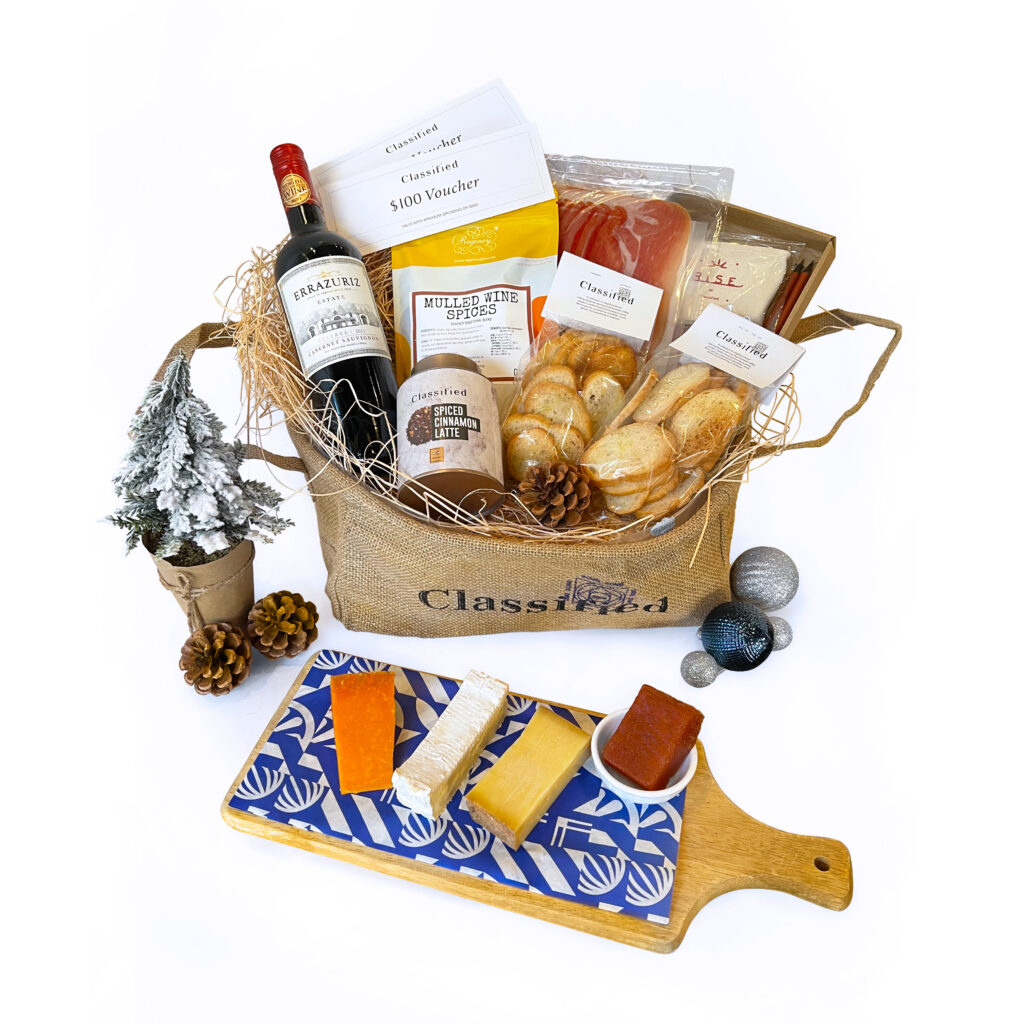 THE JOYFUL GREETINGS OF CHEESE
HK$688
Cheese (3 types)
Abondance Fermiere AOP, 100g
Comte 12 mois Rederve du Chamet, 100g
Mimolette Young, 100g
Wine (1 bottle)
Errazuris Sauv Blanc, 750ml OR
Badet Clement Chardonnay, 750ml OR
Errazuris Cabernet Sauvignon, 750ml OR
Badet Clement Seduction Merlot, 750ml OR
Badet Clem Sparkling, 750ml OR
Perrin Luberon Rosé, 750ml
Accompaniments
Quince Paste, 100g
Crostini x 2 bags (15 pieces per bag)
Spanish Serrano Ham, 100g
Classified HK$100 Dining Voucher (2 pcs)
Mulled Wine Spices (1 pack)
Teacha Spiced Cinnamon Latte Tea Leaves (1 can)
Rise by Classified Stationery Kit
Classified Wine Bag
Classified Basket
Self pick-up (Classified Tai Hang / Exchange Square) HK$688.00
Delivery (Hong Kong Island) HK$888.00
Delivery (Kowloon or New Territories) HK$938.00
---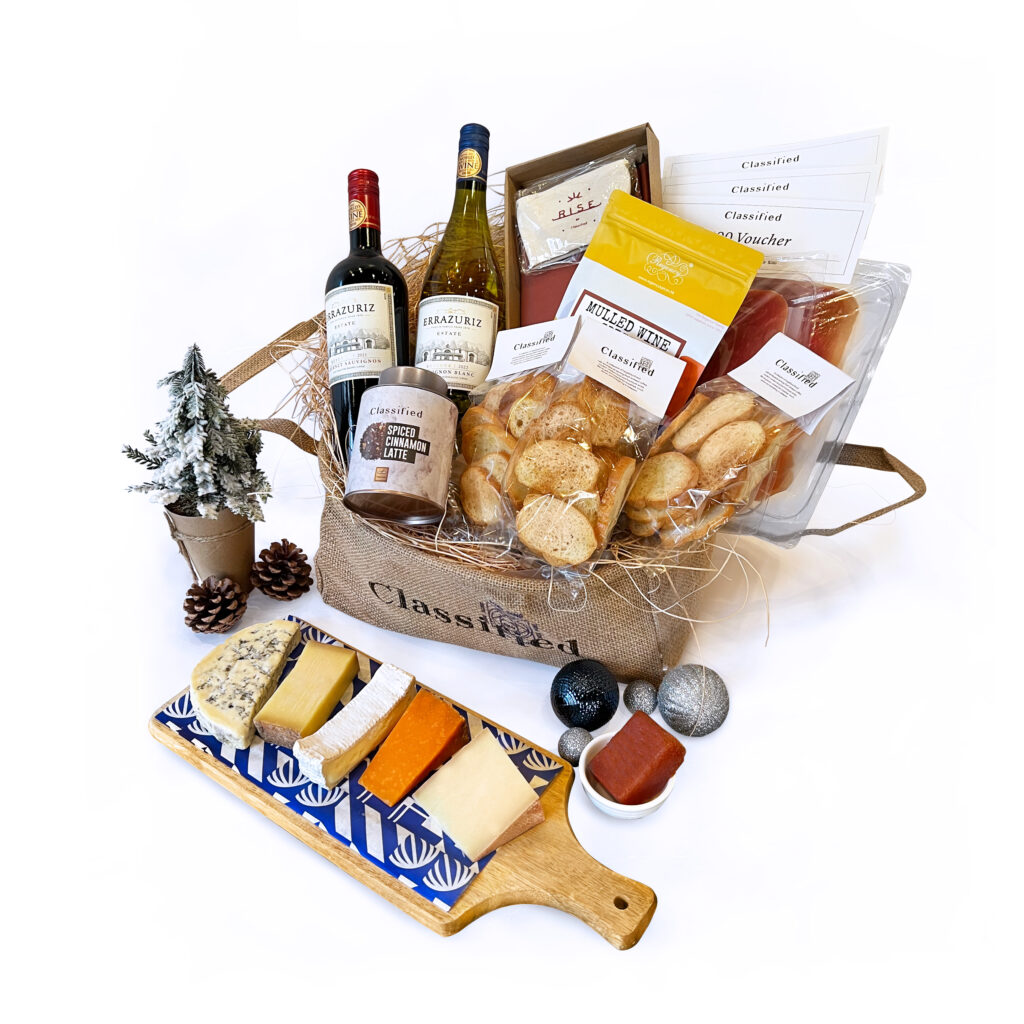 THE DELUXE CHEESE ENTHUSIAST
HK$1,038
Cheese (5 types)
Abondance Fermiere AOP, 100g
Comte 12 mois Rederve du Chamet, 100g
Mimolette Young, 100g
Forme De Ambert, 100g
Brie du Meauz, 100g
Wine (2 bottles)
Errazuris Sauv Blanc, 750ml OR
Badet Clement Chardonnay, 750ml OR
Errazuris Cabernet Sauvignon, 750ml OR
Badet Clement Seduction Merlot, 750ml OR
Badet Clem Sparkling, 750ml OR
Perrin Luberon Rosé, 750ml
Accompaniments
Quince Paste, 100g
Crostini x 3 bags (15 pieces per bag)
Spanish Serrano Ham, 100g (2 packs)
Classified HK$100 Dining Voucher (3 pcs)
Mulled Wine Spices (1 pack)
Teacha Spiced Cinnamon Latte Tea Leaves (1 can)
Rise by Classified Stationery Kit
Classified Wine Bag
Classified Basket
Self pick-up (Classified Tai Hang / Exchange Square) $1,038.00 HKD
Delivery (Hong Kong Island) $1,238.00 HKD
Delivery (Kowloon or New Territories) $1,288.00 HKD
---
Add-on wine: $120.00 HKD / bottle
Add-on wine: $200.00 HKD / 2 bottles
---
Outlet's Opening Hours:

Classified Tai Hang
Mon – Sun: 8:30am – 9pm